LITTLETON HISTORICAL SOCIETY
 The Littleton Historical Society is a private, non profit organization devoted to the preservation of Littleton's history, the dissemination of information, and the promotion of interest in local history
New Exhibit – The Art of Gertrude F. Sanderson
Gertrude Fletcher Sanderson (1872-1937) was born in Littleton, Massachusetts the daughter of George Webster Sanderson and Charlotte Tuttle Sanderson. She was a graduate of the Boston Art School and the Julian Academy of Art in Paris. Reflecting her lifelong residence in Littleton, she produced numerous oil and watercolor depictions of familiar views of landscapes and easily identifiable buildings.
She designed the Littleton Town Seal and was also the author of many poems on nature, some of which were published in Paris and some set to music. Recently, David Sanderson donated her portrait which is hanging in the meeting room of the Houghton Memorial building.
FOR MORE INFORMATION CLICK HERE
As of December 22, 2021 The Museum will be open Wednesdays 1-4PM. Visit us on the 2nd Sunday of every month 2-4PM starting January 2022.
FOR MORE INFORMATION ON 12 ROBINSON ROAD PLEASE CLICK HERE
---
2021 Block  Benjamin Shattuck House    $10.00   1717 home built for Rev. Benjamin Shattuck, now sited at 11 Shattuck St.
---
Be a part of Littleton History– submit your experiences of the Pandemic in Littleton and how it affected your day-to-day life in general, or something more specific so that in 50 to 100 years people will be able to read firsthand accounts.  See the link below
---
Check out the link to the Littleton's Historic Markers, a page of photos you can click on to see larger, created by Littleton resident and volunteer, Tom Howes.
---
The Littleton Then & Now  project was created by volunteers Andrew Bowers and Andrea Curran, showing historical pictures alongside current day views of Littleton.
---
Is the Baker-Sargent house on Robinson Road the oldest house in Littleton? An attic beam carved "Built in 1673 by SP" would seem to indicate this, but the truth is far more surprising. Learn who SP actually was, and whose hand carved this inscription in 1673, and for whom!
---
Friday's Finds is a new addition to our website, highlighting recent discoveries around Littleton's history.
Notables
Banner of Town Seal available for sale.  Click here to purchase.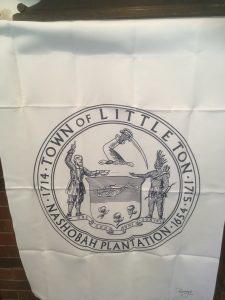 Our Online Shop is Open! Click here to visit
Video – Littleton 300th Bus Tour