LITTLETON HISTORICAL SOCIETY
 The Littleton Historical Society is a private, non profit organization devoted to the preservation of Littleton's history, the dissemination of information, and the promotion of interest in local history
NOVEMBER 17th at 7:30pm at the Congregational Church  join us at Diane Taraz's program "Till We Meet Again, Songs of WWI"   The popular songs of The Great War help us understand what average people, here and abroad, were experiencing during a time of upheaval.  As in all wars, cheery songs lifted spirits during hard times while others expressed longing for safety and home.
November 23, 2022    Wednesday afternoon We will be closed
New Items for the Holidays- 2023 Calendar and Stemless wine/beverage glass, and, apple earrings.
SUPPORT Littleton Historical Society.    Shop at smile.amazon.com.  Amazon will donate  0.5% of eligible purchases.   Just choose Littleton Historical Society when prompted to select an organization.  
MEMBERSHIP FEES  CLICK HERE
---
Check out the link to the Littleton's Historic Markers, a page of photos you can click on to see larger, created by Littleton resident and volunteer, Tom Howes.
---
The Littleton Then & Now  project was created by volunteers Andrew Bowers and Andrea Curran, showing historical pictures alongside current day views of Littleton.
---
Is the Baker-Sargent house on Robinson Road the oldest house in Littleton? An attic beam carved "Built in 1673 by SP" would seem to indicate this, but the truth is far more surprising. Learn who SP actually was, and whose hand carved this inscription in 1673, and for whom!
---
Friday's Finds is a new addition to our website, highlighting recent discoveries around Littleton's history.
Notables
Banner of Town Seal available for sale.  Click here to purchase.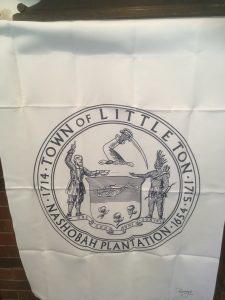 Our Online Shop is Open! Click here to visit
Video – Littleton 300th Bus Tour