LITTLETON HISTORICAL SOCIETY
 The Littleton Historical Society is a private, non profit organization devoted to the preservation of Littleton's history, the dissemination of information, and the promotion of interest in local history
Benefit Yard Sales – Littleton Historical Society

On Saturday, September 24, 2022 the Littleton Historical Society will hold a benefit yard sale on the lawn of the Houghton Memorial Building at 4 Rogers Street, Littleton from 9-2pm. We are looking for donations! Have you been cleaning out this summer and end up with a pile of treasures you don't know what to do with? We'd love to help you with your problem. We will not be able to take any electronics or large upholstered furniture. Bring your donations to the Society at the above address on Friday, Sept 23 between 4-7pm. Please contact us with any questions via email Littleton.HistSociety@verizon.net or call 978-486-8202.
SUPPORT Littleton Historical Society.    Shop at smile.amazon.com.  Amazon will donate  0.5% of eligible purchases.   Just choose Littleton Historical Society when prompted to select an organization.  
MEMBERSHIP FEES  CLICK HERE
---
Check out the link to the Littleton's Historic Markers, a page of photos you can click on to see larger, created by Littleton resident and volunteer, Tom Howes.
---
The Littleton Then & Now  project was created by volunteers Andrew Bowers and Andrea Curran, showing historical pictures alongside current day views of Littleton.
---
Is the Baker-Sargent house on Robinson Road the oldest house in Littleton? An attic beam carved "Built in 1673 by SP" would seem to indicate this, but the truth is far more surprising. Learn who SP actually was, and whose hand carved this inscription in 1673, and for whom!
---
Friday's Finds is a new addition to our website, highlighting recent discoveries around Littleton's history.
Notables
Banner of Town Seal available for sale.  Click here to purchase.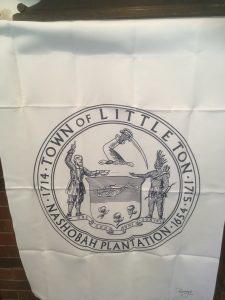 Our Online Shop is Open! Click here to visit
Video – Littleton 300th Bus Tour